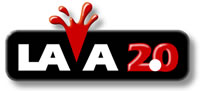 Lease/Lead Management
FREE Demo!
Due Diligence with Live Reporting, Editing, Viewing and Export.
Field research immediately updates online reports.

• Monitor the progress of title examination projects in real time
• Live Reporting:
- Effective NRI - Acreage totals
- Expenses - Lease maps
• Instant reporting from field activity
• Lease Manager
- create leases and documents
- view and edit leases
- uploaded docs or scanned images
• Summary for Selected Week
- Lease parameters
- Title Submission by each abstractor or landman
- Exportable to Shape, PDF or Text
• Over 54 million official records online
- Leases - Assignments
- Deeds - Memos
- Pooling - Amendments
• Access Control List (ACL)
- you control who sees what
• Time Card
- Crew time & expense tracking
• System Log - keep track of ALL activity on your LAVA lease management portal
• No Software to Install
• County Courthouse Records
• Ownership Reports
• Lease/Lead Management
• FastMap - DPU/HBP Layers
• Nationwide Parcel Data
• Manage Title Reports

To sign up for a Free Demo of LAVA 2.0 click here or for more information call 361-904-0071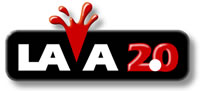 Lease/Lead Management
FREE Demo!

Free for 24 Hours

OGI FastMap Loaded is fast becoming the online mapping tool of choice for a number of industries. With its powerful search and navigate features, our clients are able to explore and retrieve valuable information from our built in data-rich layers.
Click here for free 24 hours.

Features (learn more about FastMap)
• Spatial Select (draw shapes to get parcel intersects, DPUs and much more) See below
• My Sites (save your map locations)
• Query Builder (advanced land data search)
• Quick Search (search county/state for parcel or abstract by name, API and more )
• Intuitive Tools (zoom, drag, get info., measure & calculate and more)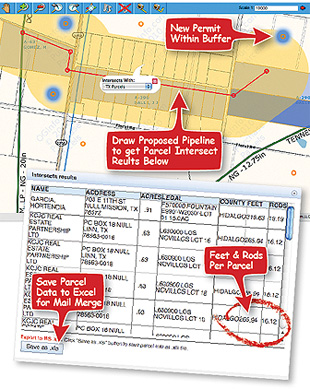 Fas
tM
ap
Loaded applications

include layers you control
such as: Wells & Pipelines, Drilling Units, Flood Plains Abstracts/Surveys
, Surface Ownership Parcel Data, City Limits,
Water Bodies, Parks, Wildlife Refuges, Aerial Imagery,
Gulf of Mexico Offshore Data, Roads and Railways. Search across Texas by survey name/abstract number and search
OGI's data
base of surface ownership. Surface
ownership is searchable by owner name and address. This tax roll information is available in over 100 Texas counties.
Get FastMap Loaded FREE, Click here.
Nationwide Land Grid Coverage DSD(Direct Spatial Download) makes it fast and easy.
OGInfo.com LLC (OGI) and WhiteStar Corp. have teamed to make the WhiteStar Grid product available for online licensing via OGI's Direct Spatial Download. This cooperative agreement makes it easier for GIS users to search, select and download land grid coverage from the WhiteStar Grid.

Through the newly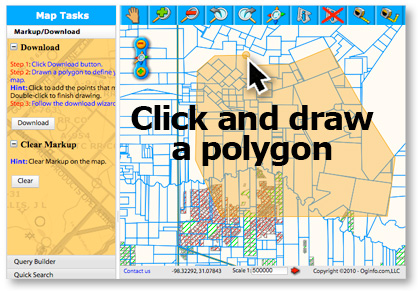 introduced data delivery mapping system, DSD, OGI enables its users to search and select an area of land and instantly download the land grid data relating to the selected area of interest. The Direct Spatial Download service eliminates the need for GIS customers to license data on a CD and wait for its delivery by mail or courier. And most importantly, Direct Spatial Download clients never have to license areas of data they don't need.
WhiteStar Grid provides a seamless digital mosaic of land survey and fitted state and county boundaries covering all public land survey states, including Texas and Offshore State and Federal Water in the Gulf of Mexico. WhiteStar created the Grid database product manually by digitizing 1:24,000-scale USGS topographic maps.
Use OGI DSD's intuitive spatial select tool to draw a polygon anywhere on the online map. Make your polygon any size and any shape to select a very specific area and only download and license the data you need.

Chad Feerick, President of OGI anticipates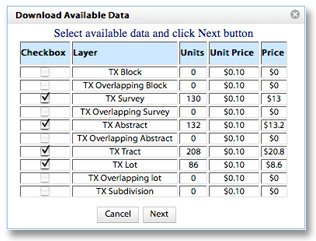 an increased response in business due to the expanded access to downloadable data. With a newly introduced DSD, OGI enables its users to search and select an area of land, and download and license instantly land grid data. Customers can download surveys, abstracts, TX blocks, TX tracts, TX lots, sections and townships.



"The real difference is the ability to use our highly intuitive online map to search an area of interest, draw a complex outline and download the data intersecting that polygon," says Feerick. The flexibility and precision of search and download is advantageous in disciplines related to land management, oil & gas exploration, right of way maintenance, pipeline operations, and geologic mapping. Like most technology and data industries, applications and data delivery are all going online. When the data is so easily accessible and area specific, customers are amazed that DSD has not been done before.