Nationwide Land Grid Coverage DSD(Direct Spatial Download) makes it fast and easy.
OGInfo.com LLC (OGI) and WhiteStar Corp. have teamed to make the WhiteStar Grid product available for online licensing via OGI's Direct Spatial Download. This cooperative agreement makes it easier for GIS users to search, select and download land grid coverage from the WhiteStar Grid.

Through the newly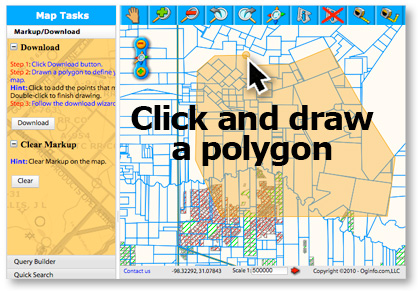 introduced data delivery mapping system, DSD, OGI enables its users to search and select an area of land and instantly download the land grid data relating to the selected area of interest. The Direct Spatial Download service eliminates the need for GIS customers to license data on a CD and wait for its delivery by mail or courier. And most importantly, Direct Spatial Download clients never have to license areas of data they don't need.
WhiteStar Grid provides a seamless digital mosaic of land survey and fitted state and county boundaries covering all public land survey states, including Texas and Offshore State and Federal Water in the Gulf of Mexico. WhiteStar created the Grid database product manually by digitizing 1:24,000-scale USGS topographic maps.
Use OGI DSD's intuitive spatial select tool to draw a polygon anywhere on the online map. Make your polygon any size and any shape to select a very specific area and only download and license the data you need.

Chad Feerick, President of OGI anticipates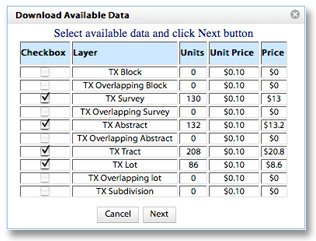 an increased response in business due to the expanded access to downloadable data. With a newly introduced DSD, OGI enables its users to search and select an area of land, and download and license instantly land grid data. Customers can download surveys, abstracts, TX blocks, TX tracts, TX lots, sections and townships.



"The real difference is the ability to use our highly intuitive online map to search an area of interest, draw a complex outline and download the data intersecting that polygon," says Feerick. The flexibility and precision of search and download is advantageous in disciplines related to land management, oil & gas exploration, right of way maintenance, pipeline operations, and geologic mapping. Like most technology and data industries, applications and data delivery are all going online. When the data is so easily accessible and area specific, customers are amazed that DSD has not been done before.