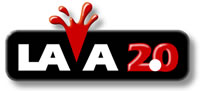 Lease/Lead Management
FREE Demo!
Due Diligence with Live Reporting, Editing, Viewing and Export.
Field research immediately updates online reports.

• Monitor the progress of title examination projects in real time
• Live Reporting:
- Effective NRI - Acreage totals
- Expenses - Lease maps
• Instant reporting from field activity
• Lease Manager
- create leases and documents
- view and edit leases
- uploaded docs or scanned images
• Summary for Selected Week
- Lease parameters
- Title Submission by each abstractor or landman
- Exportable to Shape, PDF or Text
• Over 54 million official records online
- Leases - Assignments
- Deeds - Memos
- Pooling - Amendments
• Access Control List (ACL)
- you control who sees what
• Time Card
- Crew time & expense tracking
• System Log - keep track of ALL activity on your LAVA lease management portal
• No Software to Install
• County Courthouse Records
• Ownership Reports
• Lease/Lead Management
• FastMap - DPU/HBP Layers
• Nationwide Parcel Data
• Manage Title Reports

To sign up for a Free Demo of LAVA 2.0 click here or for more information call 361-904-0071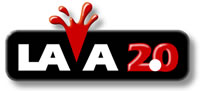 Lease/Lead Management
FREE Demo!

Free for 24 Hours

OGI FastMap Loaded is fast becoming the online mapping tool of choice for a number of industries. With its powerful search and navigate features, our clients are able to explore and retrieve valuable information from our built in data-rich layers.
Click here for free 24 hours.

Features (learn more about FastMap)
• Spatial Select (draw shapes to get parcel intersects, DPUs and much more) See below
• My Sites (save your map locations)
• Query Builder (advanced land data search)
• Quick Search (search county/state for parcel or abstract by name, API and more )
• Intuitive Tools (zoom, drag, get info., measure & calculate and more)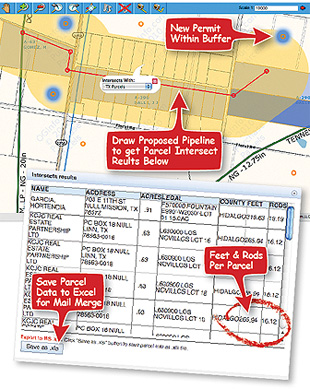 Fas
tM
ap
Loaded applications

include layers you control
such as: Wells & Pipelines, Drilling Units, Flood Plains Abstracts/Surveys
, Surface Ownership Parcel Data, City Limits,
Water Bodies, Parks, Wildlife Refuges, Aerial Imagery,
Gulf of Mexico Offshore Data, Roads and Railways. Search across Texas by survey name/abstract number and search
OGI's data
base of surface ownership. Surface
ownership is searchable by owner name and address. This tax roll information is available in over 100 Texas counties.
Get FastMap Loaded FREE, Click here.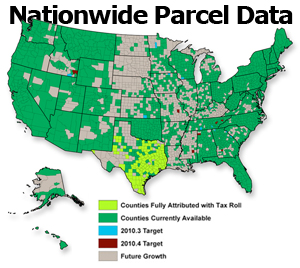 OGI is one of the few resources for country wide parcel data...click here to see our national coverage map. Call 361-904-0071 for Parcel Data set information.
Select a Texas County and view the products available for each County click here.
You can visit our ONLINE DATA STORE to get a complete list of data products that OGI offers.