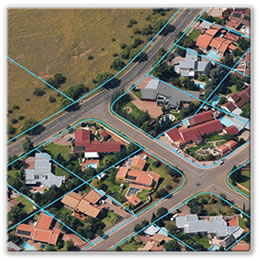 OGI provides complete Oblique and Orthographic Imaging services.
Lower Prices. Own Your Images. Best Imaging Technology. With the latest technology, accurate surveying can be now accomplished using oblique and panoramic imagery. Oblique imagery has always been more desirable because it contains more information (such as the sides of buildings) than traditional aerial vertical photography.

OGI has partnered with GEOSPAN to offer aerial imaging services in addition to its GIS services. GEOSPAN is the advanced Photogrammetric industry provider of the highest resolution, most accurate, multi-angle oblique aerials and integrated 360° street-level imagery available. Some of the most notable features of this service include:

• Higher resolution (Low Level 4" Resolution, Medium Level 12" Resolution)
• Larger geographical coverage provided with each image
• Higher image capture frequency to provide more over lapping perspective views
• Image tiling to significantly improve the network speed to retrieve each image
• Optional library of Oblique Property Views for every property. GEOSPAN has developed an innovative automated approach to build a very valuable JPEG property imagery inventory that will import right into Property Appraisal Systems along with serving all other needs for individual property photos.
• Quick view of incident location from multiple angles for entry and exit points, topography, etc.
• Measure height, length, and width of buildings

OGI provides flexible licensing terms to put you back in control of data ownership. Your County will own the Imagery with no restrictions. Call 361-904-0071 for more info.